This week I am linking up with the fabulous Kimmie of Blue Paper Lanterns for her "Oh, This Old Thing?" Link-Up. We were to look through our closets to unearth the oldest thing in our closet and see if we could style it again and make it current. I hit jackpot when I found a box of clothes that I haven't wanted to throw away, but kept just in case they ever fit again. I've had this shirt in my closet since at least 2006 because I remember wearing it during one of my job interviews at the time. I decided to pair it with my new goodies from the Prabal Gurung for Target collaboration yesterday.
Top: Banana Republic Factory; Skirt: Calvin Klein
Necklace: CHAPS; Scarf: Target
Clutch: Prabal Gurung for Target Nolita Cosmetic Case
Wedges: Prabal Gurung for Target
I couldn't remember why I never wore this blouse, and now that I look at the photos, I remember that the sleeves would always wrinkle everywhere and I always looked a mess at the end of the day. I now know that it is because they are too wide and I need to get them taken in. On a somewhat funny note, I sent this shirt to the dry cleaners when I found it last week and I forgot to tell them not to starch it. The starch is so heavy that you can see where I struggled to undo and redo every single button! Since a white button up shirt is on my shopping list and I've already nearly doubled my January spending in the first two weeks of February, I've decided that I will take this shirt to my tailor and have the sleeves slimmed. That way my search for a white button up shirt won't seem quite so urgent.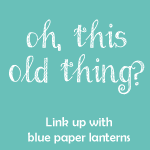 This reminds me that I've really come a long, long way from when I first started blogging. I've learned so, so much from all my blog friends especially when it comes to my closet. I hope to share that with you later this week as I spotlight some of my favorite tips, tricks and lessons for looking great in your clothes. In the meantime, check out how everyone styles their old things in the "Oh, This Old Thing?" Link-Up!
What's the oldest thing in your closet? How do you make it new again?