Today is the third day of the Pantone Fall Color Challenge with Heidi at
Literately Stylish
and Marissa at
The Modern Austen
and I failed quite convincingly. Koi is more of a subdued orange, almost a washed out color, but I only have a few orange pieces and I don't think any of them can be called subdued. Instead, I choose this bright orange sweater and wore it over my new Banana Republic striped dress.
Sweater: LOFT (last year); Dress: Banana Republic (on sale)
Earrings: Old Navy (really old); Necklace: Vintage
Shoes: Tommy Hilfiger (about 5 or 6 years old)
I love this dress. I bought it on eBay
from this vendor
and I bought it because I loved
my navy blue striped dress from last year
and I wanted one with a v-neck as well. I love the fit of the ponte material, although I probably will not wear it this way again. I initially wanted to wear black wedges, but that is how I wore this color combo last year and I wanted to add some color. This is one of those outfits that I wouldn't have posted if not for this challege because I'm not sure I liked the final outcome. :(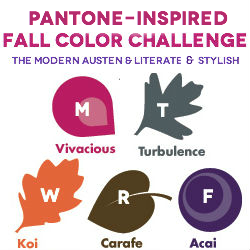 If you are also wearing your Koi gear today,
join the link-party here
!
Do you have those days?