The last color in the Pantone Inspired Fall Color Challenge is Acai, which is really just purple. I think they choose really trendy names and you can't get more trendy than acai. Everyone is on the acai diet plan, except for me because I hate diets and I love food. Also, I've worn this dress three times this week. I can't help it, I really do love it.
Handbag: Rebecca Minkoff Amour (gift from Mr. Fantastic last year)
Bangles: Blue Nile (exact)
A friend hosted a wine night at her house this week and since the weather is turning chilly, I wore this dress with a cashmere hoodie and my faux fur vest for warmth. One of the girls pointed out that I could wear this dress for Halloween and dress as a jailbird or the Hamburglar! LOL! I really liked the way this looked and I wore it again to pick up my husband from the airport after he was gone for a week. I had very favorable results. :)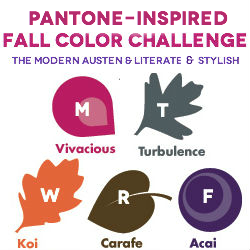 Link up your acai looks or just come look at everyone's outfits with Marissa of
The Modern Austen
and Heidi of
Literately Stylish
here
.
How often do you wear favorite pieces?